October Awareness Campaign 2015.
Mental Health Awareness Month is celebrated annually in October, and this year Cape Mental Health (CMH), raisied awareness around 'Dignity in Mental Health'.
Dignity is our inherent value and worth as human beings; everyone is born with it. One in four persons in all communities worldwide has a mental health condition, and one in every four people has, at some point in their lives, experienced a loss of dignity because of their mental health condition.
'Few people understand the true meaning of dignity, and even fewer realise the extraordinary impact it has on our lives and relationships. The social exclusion, lack of resources, inequality, discrimination and stigma faced by many persons with a mental illness inhibits the restoration of their dignity,' says Ingrid Daniels, Director of Cape Mental Health.
The glue that holds our relationships together is the mutual recognition of the desire to be seen, heard, listened to and treated fairly; to be recognized, understood and to feel safe in the world. When our identity is accepted and we feel included, we are granted a sense of freedom and independence and a life filled with hope and possibility.
'We should always remember that in order to restore dignity, all persons who are living with a mental illness have a voice and should be heard. I am not defined by my mental illness,' says Michael Hattingh, a member of Fountain House, CMH's psychosocial rehabilitation programme, and of the Cape Consumer Advocacy Body (CCAB) for mental health care users.
Cape Mental Health holds aloft its umbrella of care and advocacy to restore the dignity that lives within our service users and to address external factors that erode their dignity by offering comprehensive, proactive and enabling mental health services in the Western Cape.
During the month of October, CMH undertook the following activtities to raise awareness around Dignity in Mental health:
• A 'Dignity in Mental Health' video was produced in support of the World Dignity Project. This video showcases how CMH has assisted in the restoration of dignity in people with mental health problems and emphasises the responsibility each member of society has to restore the dignity and humanity of someone with a mental health disorder. The video was debuted at our Annual General Meeting in August. https://www.youtube.com/watch?v=YiUOozh0ZJc
• On the 1st of October CMH hosted a 'Dignity Day' to kick start October Mental Health Awareness Month. A local artist and service users drew a large dignity message on the Village Green pavement in Observatory. Community members were encourage to pledge their support to the World Dignity Project by signing large custom made dignity posters.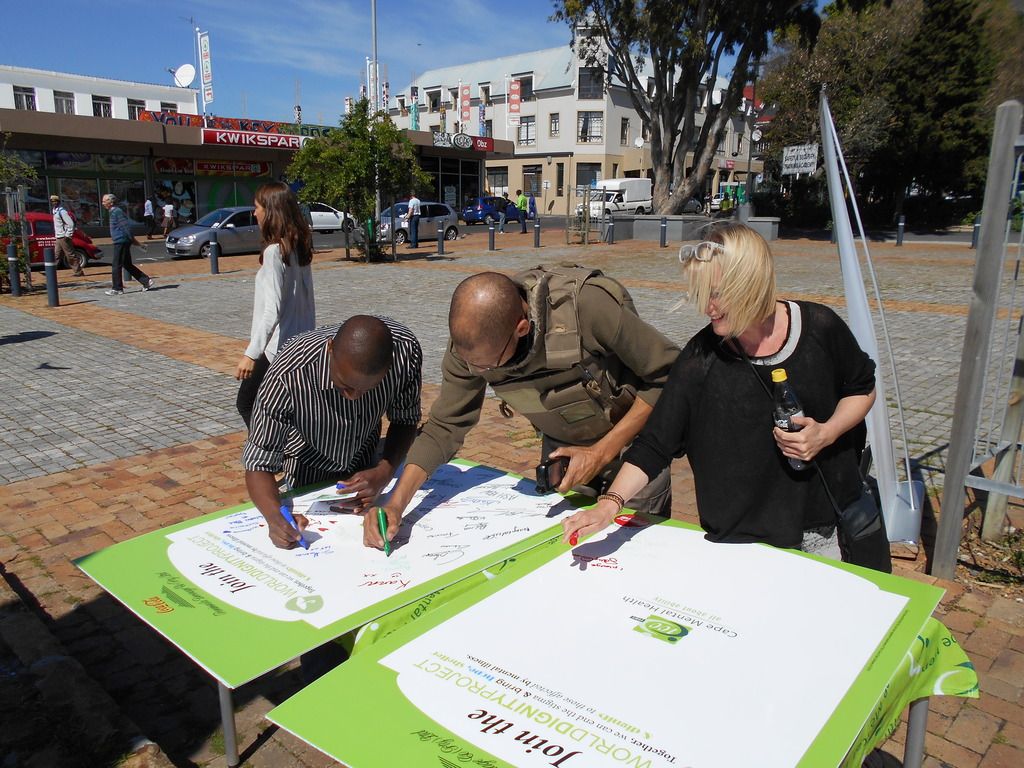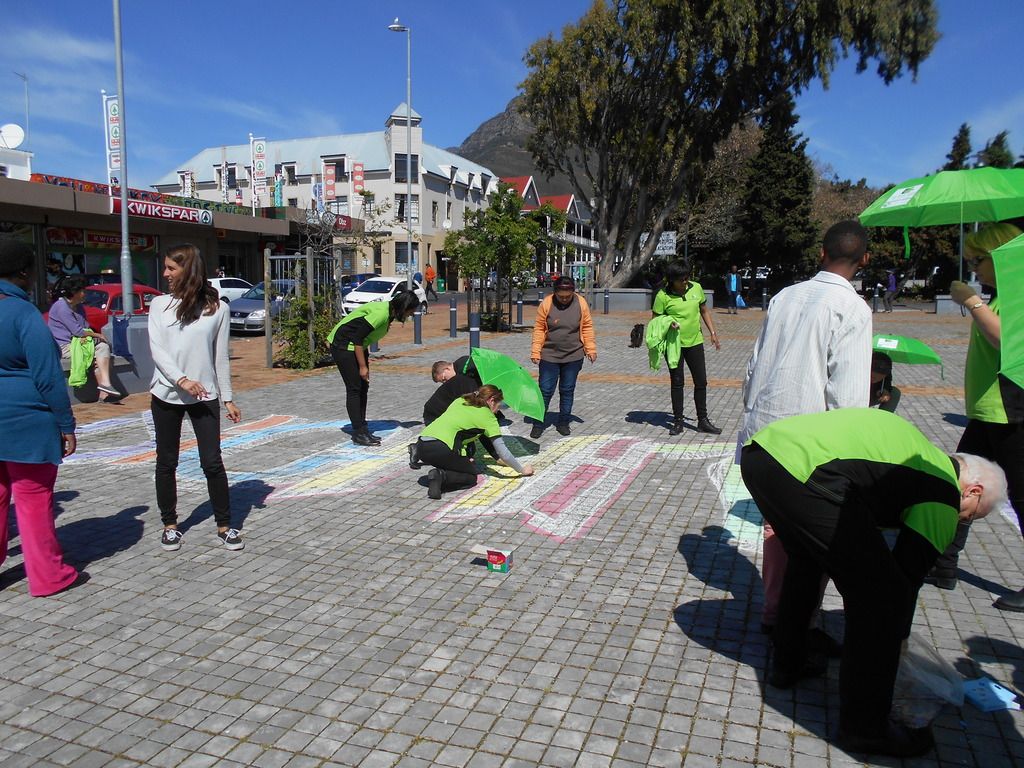 • On the 4th of October CMH (in collaboration with UCT and PRIME) raised awareness around 'Dignity in Mental Health' at Open Streets Bellville - Open streets is a free community day filled with art, music and loads of fun activities. Community members pledged their support to the world dignity project and were encouraged to write mental health messages on a large poster.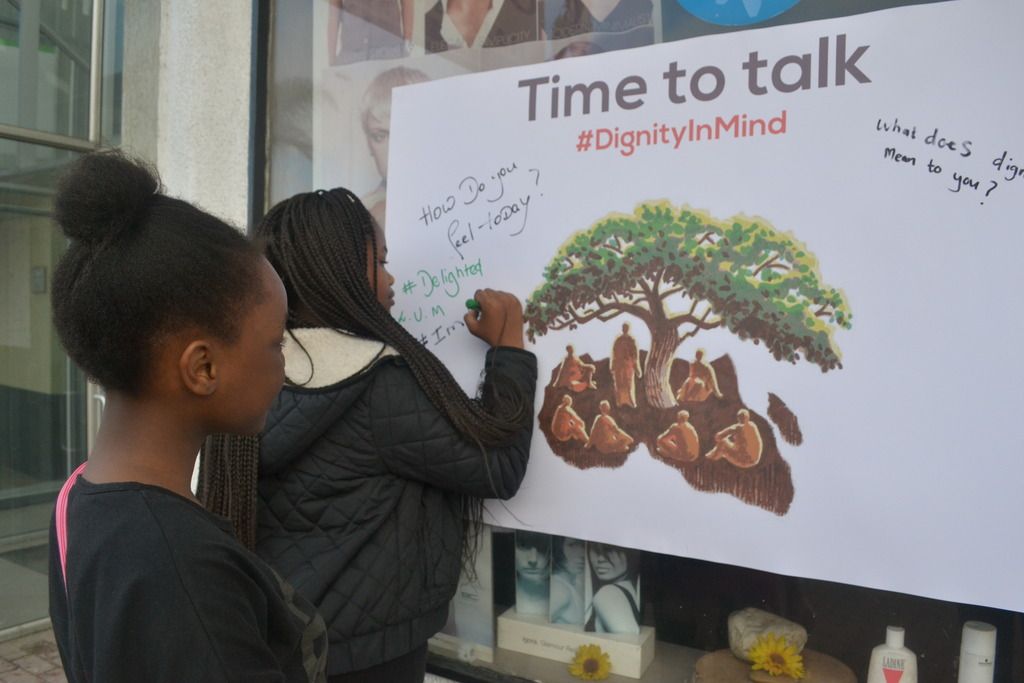 • UCT, PRIME, CMPH, Rural South Africa and other partners developed a website to showcase the World Mental Health Awareness Month activities taking place in Cape Town - www.bit.ly/mentalhealthsa
• A 'Dignity in Mental Health' moving photo exhibition was developed. The exhibition shows the contribution of service users and their interpretation of what 'Dignity in Mental Health' means to them. They reveal a common thread that runs through the lives of all people, the desire to be seen, heard, respected to and treated fairly; to be recognized, understood and to feel safe in the world. This exhibition debuted at City Walk on the 17th of October and it will be showcased at our 21st International Kite festival taking place on the 31st & 1 Nov.
• Our Facebook page showcased various dignity stories written by our service users and other theme related infographics and information - https://www.facebook.com/capementalhealth
[ Posted 24 February 2016 ]