TWU Career Path Development Graduation Ceremony
The Career Path Development programme is the first programme by Training Workshops Unlimited (TWU) to be supported by the FP&M Seta (Fibre Processing & Manufacturing Sector Education and Training Authority).
The grant funded a 6-month work skills programme for 30 trainees from our TWU Athlone Workshop. Job coach Mzikayise Ntshangase facilitated training that focus on a variety of topics, including the induction programme, personal self-care, sexuality education, healthy living, drug and alcohol abuse, looking after the environment, the importance of work, decision-making, budgeting, safety and housekeeping, compiling C.V.'s, preparing for job interviews, as well as diversity management.
To celebrate the trainees' successful completion of the programme, a graduation ceremony was held on Thursday 30 April 2015 at Athlone workshop. Not even the gloomy weather could put a damper on the excitement of the day. The generous donation of décor from Belinda Shiring – Bsdecor, featuring elegant black-and-white drapes, transformed the workshop. This provided a suitable setting for an event that hosted two hundreds guests, including smartly dressed graduates, their caregivers and parents, work skills trainees, TWU staff and honoured guests.
Mr Thomas Bezuidenhout, TWU General Manager, welcomed all present to the prestigious event and facilitated the afternoon's proceedings. A prayer by staff member Russell Jones and Siyakwazi trainee Noel Rutter blessed the start of the event. A choir item by Andile Mjuza, Chanelle Riley, Lusanda Rhoxo,Vuyiswa Ngaba, Lester Latergan, Nikki Mandla and Carla Peacock – conducted by job coach Shamila Ownhouse, a duet by graduates Zukiswa Matyeni and Siyamthemba Makhohliso, and a solo performance by Shaunelle Riley, provided inspiring entertainment.
Cape Mental Health's deputy director, Vimla Pillay, gave the motivational key note address. She challenged those present with an inspirational quotation by Haim Ginott: "I can be a tool of torture or an instrument of inspiration. I can humiliate or humor, hurt or heal. If we treat people as they are, we make them worse. If we treat people as they ought to be, we help them become what they are capable of becoming. In all situations, it is my response that decides whether a crisis is escalated or de-escalated, and a person is humanized or de-humanized." She also thanked staff for their input and acknowledged the support of the parents.
FP&M Seta representative , Kehilwe Kwane – the Quality Assurance Specialist for the Western Cape, spoke on behalf of the their CEO, applauding the work that has been done by the trainees and the staff. Four trainees, Abduragman Achmat, Darrin Leen, Sibulele Mabedla and Rozina Mervyn, gave feedback on their experience of the programme. They mentioned some of their learnings and thanked Mzikayise for his lessons.The trainees each received a personalised certificate to mark their achievement, and proudly posed for photographs along with their families.
The event culminated in a finger lunch enjoyed by all. Training Workshops is proud of our trainees' achievements and has expressed the hope that the occasion heralds a long and fruitful partnership with the FP&M Seta so that so many more of our service users with intellectual disability can benefit. There is monthly follow-up with graduates to provide them with the necessary support in their search for jobs within the open labour market as well as bridging programmes to help them make the difficult transition.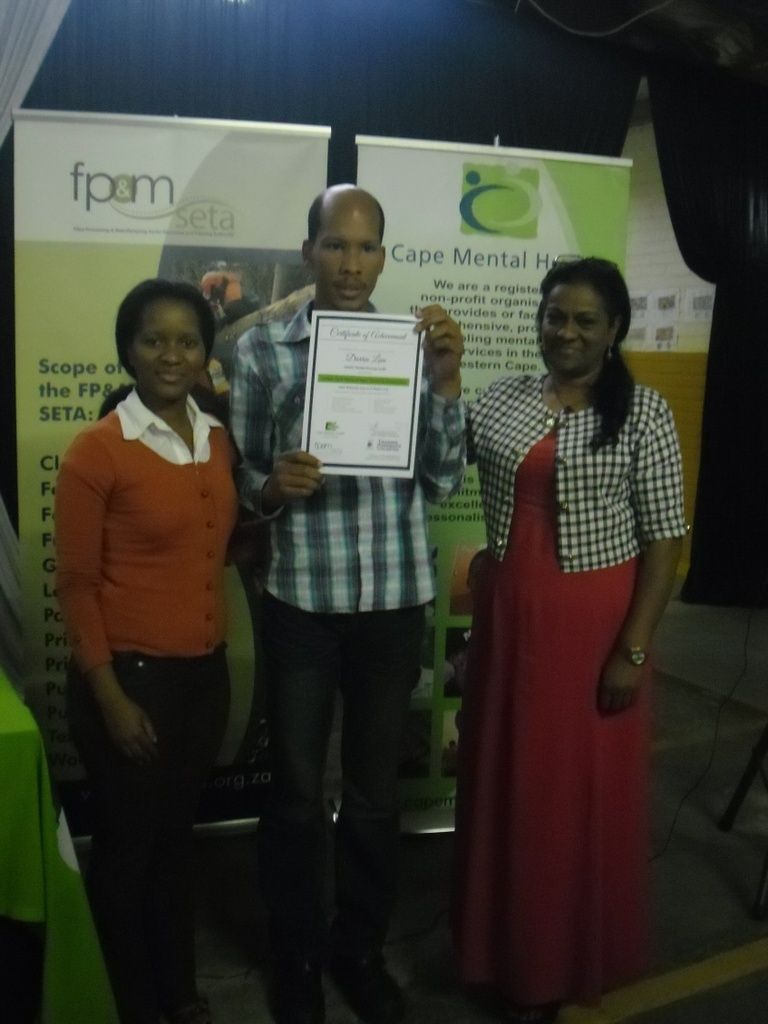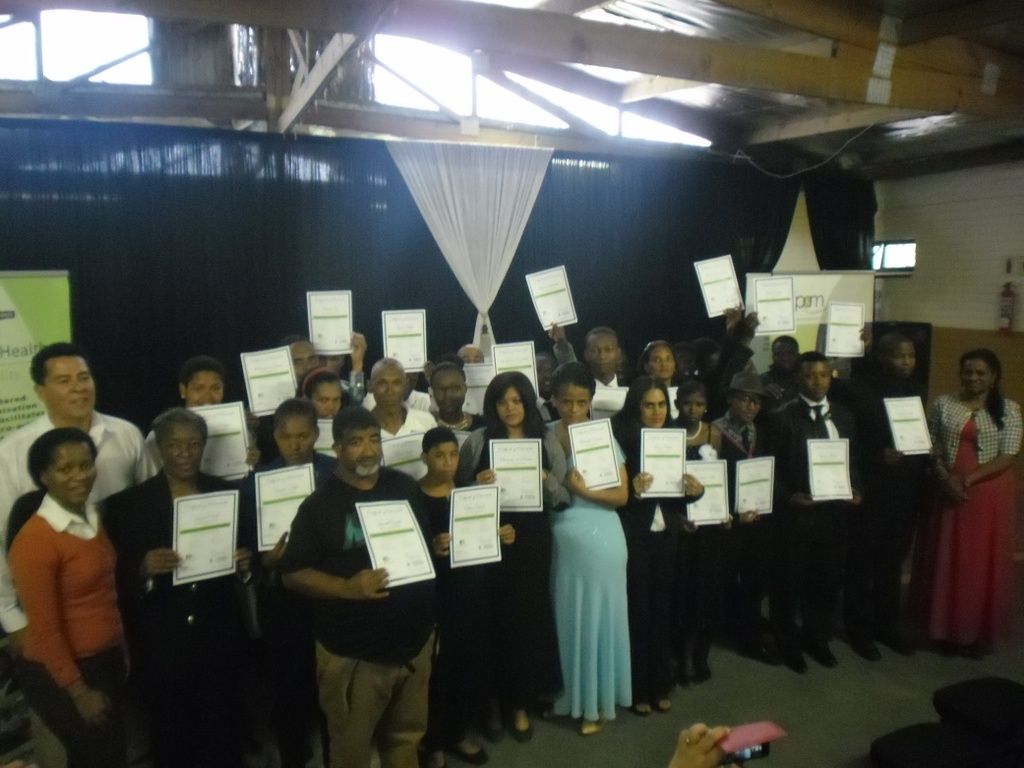 [ Posted 3 February 2016 ]